Bandeau image
The board
Chapo
The board is composed of seven members and five project managers. It is in charge of the overall management of the project and the instruction of the scientific and strategic actions for the Supervision Committee and the Program Committee.
Membres du bureau
Photo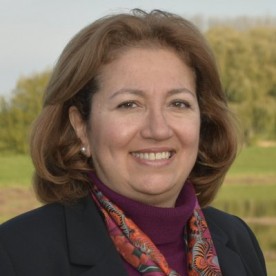 Nom et prénom
Nozha BOUJEMAA
Information 1
Head of DATAIA Institute
Information 2
Research director, Inria
Titre accordéon
HER CAREER
Contenu accordéon
Nozha Boujemaa is a Senior Research Scientist at Inria, Director of DATAIA Institute (Data Sciences, Intelligence & Society), Project leader of TransAlgo scientific platform for algorithmic systems transparency and accountability. Nozha is Knight of the National Order of Merit, President of the Scientific Council of the Institute of Technological Research "SystemX", Senior Scientific Advisor for "The AI Initiative" (Harvard Kennedy School), International Advisor for Japanese Science and Technology Agency Program "Advanced Core Technologies for Big Data Integration", Elected Member of the Board of Directors of Big Data Value Association, General-chair of European Big Data Value Forum 2017, Member of the Scientific Councils of INRA, CentraleSupélec and Member of the Strategic Orientation Council of Institut Français. Previously, Advisor to the Chairman and the CEO of Inria in Data Science with concern to the socioeconomic impact, Director of Inria Saclay Research Center for 5 years (2010-2015), Scientific Head of IMEDIA research group -Large Scale Multimedia Content Search- for over 10 years till 2010. Nozha Boujemaa is the co-author of over 150 international publications. She has supervised over 25 PhD and master students.
Her domain of expertise covers Machine Learning and Large Scale Multimedia Content Search. She develops methods for automatic visual content enrichment, structuring and browsing together with interactive and personalized information retrieval mechanisms based on Semi-Supervised Learning & Active Learning. Application domains include web content search, cyber-security, biodiversity, audio-visual archives, and earth observation & satellite images.
Photo

Nom et prénom
Christine BALAGUÉ
Information 1
Institut Mines-Télécom
Information 2
Observatory of use cases
Titre accordéon
HER CAREER
Contenu accordéon
Christine Balagué is Professor and Holder of the Chair of Social Networks and Connected Objects at IMT - Télécom Ecole de Mangement, and was Vice-President of the Conseil National du Numérique from 2013 to 2015. Her research focuses on the modeling of connected individuals, especially on social networks and with connected objects, and the ethics of technologies. She is also a member of the CERNA (Ethics Committee for Allistène Digital Research) and the DATAIA Institute. As VP of the Conseil National du Numérique, she participated in various works submitted to the French government on the major issues of digital (Neutrality of the Net, Neutrality of platforms, E-inclusion, E-education, E-health, national consultation) . She is also the author of many books on the development of the Internet in France and on social networks. Holder of the accreditation to supervise research (HDR), Christine Balagué is a doctorate in Management Sciences, graduated from ESSEC and a Master of Econometrics at ENSAE.
Photo

Nom et prénom
Alain DENISE
Information 1
Université Paris-Sud
Titre accordéon
HIS CAREER
Contenu accordéon
Alain Denise is a professor at Paris-Sud University. His field of research is bioinformatics, including in silico genome analysis and combinatorial algorithmic sequences and biological structures. He works in two laboratories of the Paris-Sud University and the CNRS: the LRI (Laboratory of Research in Computer Science, where he is responsible for the Bioinformatics team) and the I2BC (Institute of Integrative Biology of the Cell).
Photo

Nom et prénom
Eric MOULINES
Information 1
Ecole polytechnique
Information 2
Trainings - PhD Track
Titre accordéon
HIS CAREER
Contenu accordéon
Éric Moulines is a professor at the École polytechnique's Center for Applied Mathematics. Graduated from the École polytechnique and engineer from IMT, Éric Moulines began his career at Télécom ParisTech. From 1996 to 2015, he was a professor. In particular, he founded teaching in statistics and data sciences. He joined École polytechnique in September 2015 to develop these courses at the engineering and masters level, including MSC Data Sciences for Business associating X and HEC and the Data Science course of the Master of Mathematics and Applications of the University Paris-Saclay. He is the author of two research monographs on complex dynamic inference problems and more than 100 research articles in international journals. For three consecutive years between 2013 and 2015, he was the editor-in-chief of the Bernoulli magazine, a leading European journal in the field of statistics and applied probabilities. In 2010, Eric Moulines was awarded for his work in statistics at the national level by receiving the Silver Medal of the CNRS. He received the "Orange" Grand Prix of the Academy of Sciences in 2011. In 2018, he is recognized for his work by being appointed a member of the Academy of Sciences in the mechanical and computer sciences section. This appointment confirms the influence of his work in the field of applied mathematics emerging through large data sets: numerical statistics-stochastic approximation and large-scale simulation-for the inference of complex statistical models.
Photo
Nom et prénom
Frédéric PASCAL
Information 1
CentraleSupélec
Information 2
Operational coordination of programs
Titre accordéon
HIS CAREER
Contenu accordéon
Frédéric Pascal is a full Professor in the L2S laboratory at CentraleSupélec. From Jan. 2017, he is the head of the "Signals and Statistics" group of L2S. He is also the coordinator of the data science activities at CentraleSupélec and the chair holder of the Givaudan chair on data sciences. From Sept. 2017, he is in the Executive Committee of the DATAIA institute as the Program Coordinator. From 2015 to 2017, Frederic Pascal was the Chair of the EURASIP SAT in Theoretical and Methodological Trends in Signal Processing (TMTSP) and he is a member of the IEEE Signal Processing Society SAM technical committee (Jan. 2015-present). Frederic Pascal serves as an Associate Editor for the IEEE Transactions on Signal Processing (2015-2018), for the EURASIP Journal on Advances in Signal Processing (2015-present) and for Elsevier Signal Processing (2018-present). His research interests contain estimation, detection and classification for statistical signal processing and applications in radar and image processing. He is the author / coauthor of more than one hundred papers in the top journals and conferences in Signal Processing, Image Processing and Statistics.
Photo

Nom et prénom
Jean-Noël PATILLON
Information 2
Industrial relations and PAI
Titre accordéon
HIS CAREER
Contenu accordéon
- under construction -
Photo

Nom et prénom
Michèle SEBAG
Titre accordéon
HER CAREER
Contenu accordéon
Michèle Sebag has explored multiple approaches to AI. Graduated from the ENS, agrégé of mathematics, she began her professional career in the industry at Thomson before creating an AI consulting start-up. She then joined the CNRS, first at the Solid State Mechanics Laboratory at École polytechnique, then at Paris-Sud University at the Computer Research Laboratory. Among the feats of his teams: the development of an algorithm capable of beating human players in the game of go in 2009, nearly seven years before the AlphaGo DeepMind. Today, she works in particular on causal modeling, which she wants to use to reduce the biases of machine learning. Introducing causality into algorithms would, in particular, make the results of machine learning more explicable.
Photo
Nom et prénom
Alexandra BENSAMOUN
Information 1
Université Paris-Sud
Information 2
Project manager
Titre accordéon
HER CAREER
Contenu accordéon
Alexandra Bensamoun is Professor of private law and criminal sciences (University of Rennes 1 - Institute of the West: Law and Europe IODE, University Paris-Sud / Paris-Saclay - Center for studies and research in immaterial law CERDI ), IP / IT specialist. Appointed qualified personality at the Higher Council of Literary and Artistic Property (CSPLA), she conducted for the Ministry of Culture several reports, for example on the status of technical intermediaries of the Internet and the right of communication to the public. In charge of mission at the DATAIA Institute's board, she is very involved in the reflection and scientific research related to AI and has written several contributions on its regulation, particularly in terms of responsibility and ethics. She also co-chaired the "Legal Issues" section of the #FranceIA report (at the request of the Prime Minister, 2017).
Photo

Nom et prénom
Florence D'ALCHÉ BUC
Information 1
Télécom ParisTech
Information 2
Project manager
Titre accordéon
HER CAREER
Contenu accordéon
Florence d'Alché-Buc is a professor at Télécom ParisTech since 2014. Former student of Télécom ParisTech, she has supported her PhD at Université Paris-Sud on neural model learning. After two years at the Philips Electronics Laboratory, she held the positions of Senior Lecturer at the Pierre and Marie Curie University and then Professor at the University of Evry. She created and led a team in Learning and Bioinformatics and was the Assistant Director of the IBISC Laboratory. She has been responsible for several years of the challenges program of the European network PASCAL. She is now scientific leader of the laboratory of excellence in STIC (labEx DigiCosme) of the Paris-Saclay campus. His research interests include statistical learning, network inference, structured prediction and dynamic system modeling with different applications including computational biology and medicine.
Photo

Nom et prénom
Laurence DEVILLERS
Information 2
Project manager
Titre accordéon
HER CAREER
Contenu accordéon
Professor at the Paris-Sorbonne University and researcher at the Laboratory of Computer Science for Mechanics and Engineering Sciences (Limsi) of the CNRS, Laurence Devillers leads the research team Affective Dimensions and Social Dimensions in Speech Interactions. Her areas of research focus on human-computer interaction, emotion detection, oral dialogue and emotional and interactive robotics. She has participated in several national (ANR Tecsan Armen, FUI Romeo, BPI Romeo2) and European projects (Rex Humaine, Chist-era Joker) on human-robot affective and social interactions. She also animates the pole on human-machine co-evolution within the framework of the Institute of the digital society. She has contributed to the drafting of the Robotics Research Ethics Report for the Allistene Alliances Research Commission on the Ethics of Research in Digital Science and Technology (Cerna).
Photo

Nom et prénom
Bertrand THIRION
Information 1
Inria Saclay - Île-de-France
Information 2
Project manager
Titre accordéon
HIS CAREER
Contenu accordéon
Bertrand Thirion is head of the Parietal team (Inria Saclay - Île-de-France and CEA) and vice-head of research at the Inria Saclay - Île-de-France center. After a thesis at the Inria Sophia-Antipolis center under the direction of Olivier Faugeras, then a postdoc at the CEA in Orsay, he participated in the creation of the Neurospin research center (CEA) where he created the Parietal team. His research focuses on statistical modeling and machine learning applied to brain imaging data. He is the author of more than 200 articles and contributes to the animation of open-source software projects in Python (scikit-learn, nilearn).
Photo

Nom et prénom
Célia ZOLYNSKI
Information 1
Université Versailles Saint-Quentin-en-Yvelines
Information 2
Project manager
Titre accordéon
HER CAREER
Contenu accordéon
Agrégée of the Faculty of Law, Célia Zolynski is Professor of Private Law at the University of Versailles Saint-Quentin-en-Yvelines where she leads the Master's degree in Digital Law and co-leads the Master 2 Intellectual Property and Digital Business Law (PID @ N) ). She is also a member of the Foresight Committee of the CNIL and the Higher Council of Literary and Artistic Property (CSPLA) and was a member of the National Digital Council (CNNum) from February 2016 to December 2017. Her research activities cover digital law, intellectual property law, market law and fundamental freedoms. She is the author of various publications in these fields, in particular on the links between the internal law and the law of the European Union. She leads several interdisciplinary working groups and collective research projects on the protection and the valorization of the data and the regulation of the algorithmic treatments.