Catégorie
Conferences / Workshops
Introduction to Data Science in Python
Bandeau image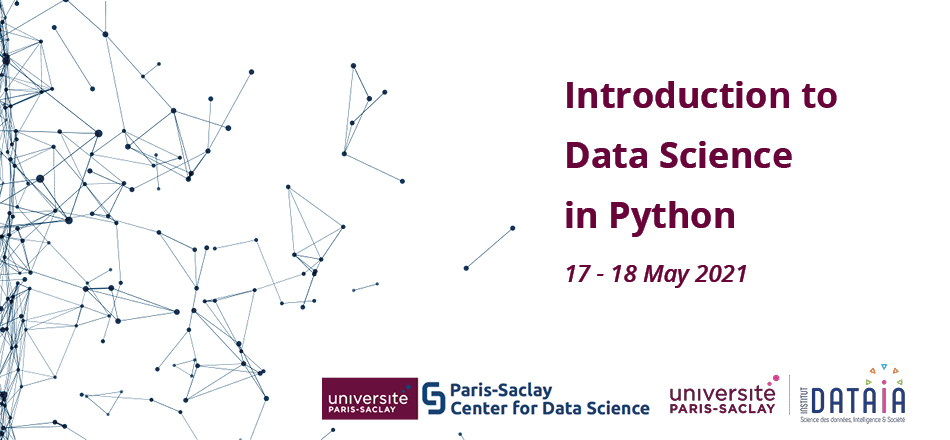 Introduction to Data Science in Python
Practical Information

Events on the same topic
Date limite d'inscription
Closing date for registration : 04.05.21
Lieu de l'événement
Online
Date de l'événement (intitulé)
17 and 18 May 2021
Chapo
The Paris-Saclay Center for Data Science and Institut DATAIA Paris-Saclay are organizing a two-days workshop aiming at giving an introduction to some of data science-related topics using Python and the PyData ecosystem.
Contenu
Corps de texte
The two-day workshop is intended for graduate students and researchers who have basic knowledge of Python or experience with another scientific programming language such as R or Matlab.
Program:
Day 1 - Data manipulation, exploration and visualization
Objective: Introduce the PyData ecosystem to manipulate, explore and visualize data.
Introduction to numpy, pandas, and matplotlib.
Day 2 - Machine Learning
Objective: introduce the basics of machine learning using the scikit-learn library.
Become familiar with the general principles of machine learning.
Use these principles using the scikit-learn library on some examples of simulated and real data.
Ancre
Practical Information
Corps de texte
The training will be held remotely and will be based on previous editions of the CDS workshops. 
Registration is free but mandatory due to the limited number of places. Registration will close on May 4th.
Catégorie
Conferences / Workshops
Date de l'événement (intitulé)
21-23 July2021
Chapo
GSI 2021brings together pure/applied mathematicians and engineers, with common interest for geometric tools and their applications for information analysis.